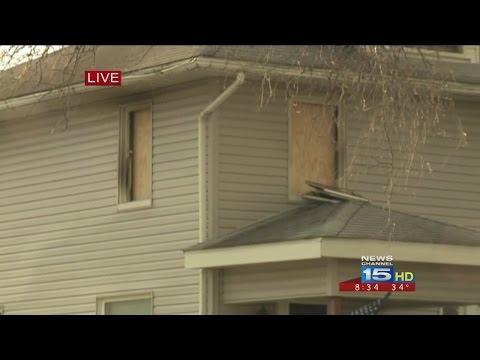 FORT WAYNE, Indiana -- A man is in critical condition after he invaded a Fort Wayne home early Saturday, stabbed two people inside, set a fire in the home and then tried to cut his own throat, according to Fort Wayne Police Department officers.
In the course of rescuing the suspect from the burning home, three police officers took in enough smoke that they also are in the hospital. One of them is in serious condition; the others are listed as stable.
Police have not identified the suspect, the stabbing victims or the police officers who were hurt in the course of rescuing the suspect.
About 1:45 a.m., Fort Wayne Police were dispatched to the 2000 block of St. Marys Avenue on the city's near-northwest side on a report of a domestic disturbance involving a man armed with a knife. At this point, their investigation indicates that the man forced his way into his girlfriend's home by shattering a sliding glass door. Once inside, he cut or stabbed two adults.
When police arrived, they reported later, the suspect barricaded himself inside an upstairs bedroom. Police cleared everyone else out of the home and ordered the suspect out of the bedroom.
The suspect told police that he had a hostage in the room, and while police were trying to negotiate with him, the suspect ignited a fire inside the bedroom.
Acting on their concern that a hostage might be in the room, police reported, they broke down the door. They saw there was no hostage in the room, and they pulled the suspect to safety.
The suspect was rated as being in critical condition when he was taken to a local hospital. Besides the self-inflicted knife wound on his throat, he had smoke inhalation.
The two people the suspect allegedly stabbed when he broke into the home were reported in stable condition.
The three police officers are hospitalized, one in serious and two in stable condition.
Fort Wayne Fire Department crews were called to the home at 2:03 a.m. Firefighters arrived four minutes later and had the fire under control at 2:16 a.m.
Firefighters rated fire and water damage as minor. Smoke damage caused to the home was moderate, according to the fire department.
Please help spread the word and use the buttons below to share this story.