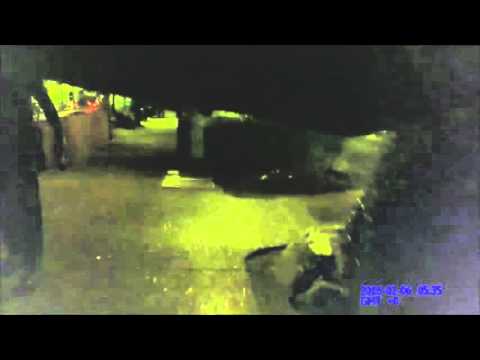 SEASIDE, Ore. — Police body camera footage released Thursday shows the brief confrontation last February between a Seaside police sergeant and his attacker that ended in both their deaths as it quickly devolved into chaos and gunfire.
Sgt. Jason Goodding and Officer David Davidson appear to be caught off-guard when a single shot rings out as they tried to take Phillip Ferry into custody outside a restaurant in downtown Seaside on Feb. 5.
The two had approached Ferry moments earlier because he had an outstanding warrant for his arrest on a probation violation. Davidson used a Taser on Ferry after he refused to get on the ground and take his hands out of his pockets.
Ferry can be heard on the video saying, "you ain't gonna like it" before the stun gun prongs hit him.
Investigators said Ferry, 55, fired one bullet from a .380-caliber pistol that hit Goodding, 39, under his ballistic vest as the sergeant moved toward Ferry.
The video footage shows Davidson, 28, radio that shots were fired, followed by the sound of seven gunshots. Daniel Ginther, a 24-year-old acquaintance of Ferry who was with him when the officers arrived, can be heard referring to Ferry as "Uncle Phil" and repeatedly yelling "stop" and "don't kill him."
Ferry was hit three times. He and Goodding later died in separate hospitals.
Clatsop County District Attorney Joshua Marquis announced 11 days later that Davidson's shooting of Ferry was "legally and morally" justified.
Toxicology results showed Ferry had a "high level" of methamphetamine and traces of marijuana in his system and a blood alcohol content of .117 percent at the time of the shooting, Marquis said.
Ferry was known for being combative with police and had a criminal history that landed him in the county jail more than three dozen times.
The district attorney's office released 33 seconds of video footage from Davidson's body camera as well as 500 pages of reports from an Oregon State Police investigation into the shooting.
Jaime L. Jones, 44, has since been indicted on federal charges for allegedly providing Ferry with the pistol used to shoot Goodding. He is also accused of trying to intimidate two witnesses from talking to police about the shooting. Jones has pleaded not guilty to the charges.
Feel free to use the buttons below to Share this post.